Home
 > Seminar of SD TORNADO
Seminar of the SD TORNADO in NEW YORK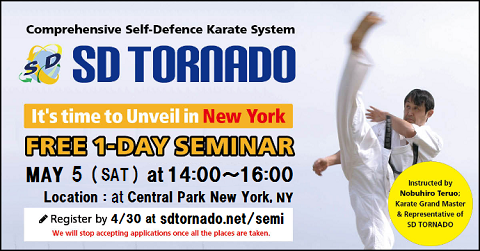 Everyone has heard stories about robberies and violence. What will you do if you or aloved one faces such a threat one day? In order to help prepare you such trouble, we will be holding a beginner level self-defense seminar class here in NYC.

You will learn
・Wisdom to avoid becoming a victim.
・The withdrawal method if you are grabbed.
・Gain insight on beneficial combat techniques.
・How to approach weapons.
・Wake up your dorment fighting potential.
・Japanease martial arts to train your mental strength.
・Efficient body movement.

Lecturer:Nobuhiro Teruo

International Self-defense Do-Jo "SD Tornado"Representative.
Born and raised in Japan.He was an instructor of Ashihara Karate and later established his own DoJo "SD Tornado".
The art of self-defense karate is popular in martial arts world.He has made many television appearances and held seminar on self defense in Latvia,Singapore and RUssia,etc.(Lives in Japan)


Lecturer's Book&DVD


*Revolutionary Self-defense Techniques (book)
Protect you, your loved ones and your family from dangers or life threatening situations in everyday life. Focuses on only effective self defense techniques that everyone can learn.

*Self Defense For Children (book)
There is a good way even for scream and getting away.
Must read for parents and teachers.
You can learn basics of self defense from scratch.

*Revolutionary Self-defense Techniques For Everyone (DVD)
Easy and fast learning!!
Show you all the techniques of self defense to prevent critical situations.

Date/Location

 May 5th (Sat) at 14:00~16:00

 at Central Park,New York,NY
        (Near Station : 59st-Columbus Circle)
     ・We will inform the applicant of the detaild location.
     ・It will be held outdoors.

Fee

 Donation

Register Now

・We will stop accepting applications one all the places are taken.

Reppresentative, Nobuhiro Teruo
5487-8 Higasikiwa
Ube, Yamaguchi
JAPAN

ABOUT

Location
5487-8 Higashikiwa
Ube, Yamaguchi, 7550241, Japan
(On the side of Route 190 and opposite to Higashikiwa Junior High School. Behind the Higashikiwa Junior High School bus stop.)
*15 minutes drive from Yamaguchi Ube airport.
*20 minutes drive from JR Shin-yamaguchi station.
*12 minutes on foot from JR Maruo station.

  Fax:0836-39-3627

SD TORNADO Official Japanese Website